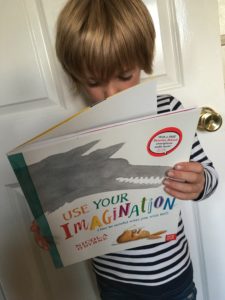 Use Your Imagination

Bobby and Daisy have been mithering about sharing some more of their favourite books with you and so last night I let them choose one book each. Daisy complained she wanted to choose more so I will try and keep adding books on the run up to Christmas, as for me books are always a good gift idea. I have to admit they have chosen well.
The one Bobby has chosen above is one that we all love to read together at bedtime. Use Your Imagination
is a play on the original 'Little Red Riding Hood' story and is very funny and clever. It is a very interactive book which brings in the concept of imagination and storytelling. Rabbit is bored and wolf suggests writing a story, the story he starts to write involves the 'big bad wolf' but has a very clever twist at the end. It is brilliant for any little people who have nightmares or wild imaginations as it's a book that tells kids that it is THEIR imagination and they are in control of it.Very good for both older and younger readers. We also love Nicola O'Byrne's book Open Very Carefully
.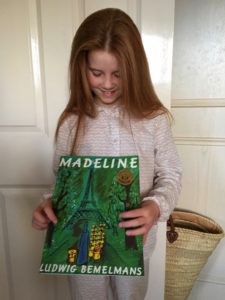 "In an old house in Paris that was covered with vines, lived 12 little girls in two straight lines".
This is a beautifully written and illustrated story of Madeline. Madeline is a little orphan who is always getting up to no good. In this book she has her appendix out and her friends are all sad. The pictures of Paris are exquistive. We have read this since a very early age and Daisy now knows it off by heart and loves to recite it to you, especially the last page…
and she turned out the light, and closed the door, and that's all there is, there isn't any more."
Once you have read this one you will be hooked and want to read about her other adventures. We also love Madeline's Christmas
and Madeline In London.
Shelley x
You may also like:-
Some more of Daisy and Bobby's book choices