Mrs Armitage arrives on the beach with her surfboard and her faithful dog Breakspear, and paddles out to sea to wait for the Big Wave. But, of course, Mrs Armitage can't be satisfied with just an ordinary surfboard and she is soon adding a hilarious variety of gadgets and contraptions. And when the Big Wave finally arrives, Mrs Armitage certainly surfs with style!
We love all the Mrs Armitage books but this is our favourite. Very funny for young and old with excellent illustrations which make me want to go to the beach! Lots of repetition which the kids love.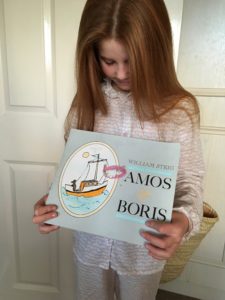 Amos & Boris Reissue Edition by Steig, William [2009]
This is such a lovely and precious book. It tells so tenderly a story of friendship between Amos the Mouse and Boris the whale, devoted friends who have nothing in common apart from their kind hearts and their willingness to help others. They meet when Amos has set off to sea in his homemade boat but finds himself in need of rescue. This is when Boris appears. The text is simple and the images beautiful. Definitely a book to be read and enjoyed often. It covers all the great themes of life: friendship, courage, love and the question of an afterlife. Most people are familiar with William Steig for having written Shrek!
, but this and Dominic
are beautiful. Daisy especially loves this one and likes to talk about friendship and what it means. Our copy is very bedraggled now.
Shelley x
You may also like:-
Some more of Bobby and Daisy's book choices