°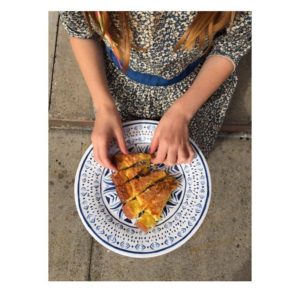 Okay it's not truly Daisy's orange cake as the recipe comes from this fantastic book, The Silver Spoon for Children: Favourite Italian Recipes

but she believes it is and at the minute it is her favourite thing to bake for everyone.
Makes enough for 6-8 people
For the cake:
100g unsalted butter plus extra for greasing the cake tin
1 orange
2 free-range eggs
100g golden caster sugar
100g icing sugar
100g self-raising flour
½ teaspoon baking powder
For the icing:
100g icing sugar
1 orange
Turn the oven on to 180°c/ 350°F/Gas Mark 4. Grease a 20cm cake tin-rub a little butter all over the inside.
Sit the tin on a piece of baking powder and draw around it, then cut out the circle and use it to line the bottom of the tin.
Cut the orange in half and then squeeze the juice into a measuring jug. You need about 90ml of juice, so if your orange is really juicy and has more juice than that, you could drink the rest.
Put the butter into a small saucepan and melt over a gentle heat or melt in a small bowl in the microwave. Leave to cool.
Crack the eggs into a big bowl.
Add the caster sugar and icing sugar and using a whisk (either a hand whisk or electric whisk) whisk until light and fluffy.
Stir in the cool melted butter.
Sift the flour and baking powder onto the egg mixture, pour over the orange juice and carefully mix everything together. Pour the mixture into the cake tin.
Using oven gloves, put the cake in the oven and bake for 18 minutes. To see if it is cooked, poke a skewer or knife into the middle-it should come out clean. If there is a sticky cake mixture on the skewer, put the cake back into the oven for 3-4 minutes.
Using oven gloves, take the cake out of the oven. Leave to cool in the tin and then carefully turn the cake out onto a cooling rack so that it is the right way up.
Make the icing. Cut the orange in half and squeeze out the juice. Sift the icing sugar into a bowl, add the orange juice and mix together.
Poke a few holes in the cooled cake with a skewer or a fork and then pour the icing over the top of the cake-it will run all over the cake into the holes and down the sides.
This cake has an amazing orange flavour. It's quite a flat cake-it will rise in the oven, but it wont be big or tall.
Please please please share your pictures with Daisy and I over on instagram by tagging _shelleyloves, hashtag #shelleyloves and let us know if you enjoyed making and eating it, Daisy is super excited that other people want to make (her) cake!
Shelley x