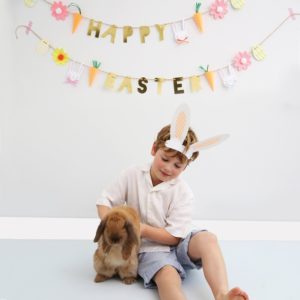 I love Easter, I think it has to be one of my favourite holidays. The beginnings of new life are starting to show everywhere, from the daffodils, to the crocuses, to the  chicks and the lambs, I just really enjoy it. I love to decorate the house with lots of easter items (many made by Daisy and Bobby) and as the kids get so many easter eggs on Easter Sunday I like to look around for alternative fabulous pressies that I know they will enjoy. I have searched the shops and internet so you don't have to.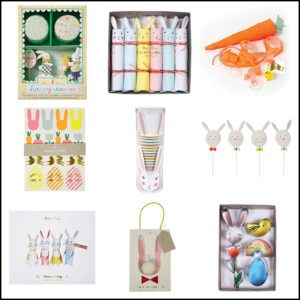 Meri Meri Happy Easter Cupcake Kit (Set of 24) by Meri Meri

MERI MERI Easter Mini Crackers (6 Pack)

Easter Bunny's Carrot Surprises (4 Pack)

HIP HOP HOORAY Easter Stickers (10 Pack)

MERI MERI Easter Cups with Bunny Sleeves (12 Pack)
MERI MERI Easter Bunny Character Balloon Kit
MERI MERI Easter Bunny Egg Decorating Kit
MERI MERI Easter Little Bunny Dress Up Kit

MERI MERI Easter Bunny & Easter Egg Cookie Cutters (4 Pack
Monsoon also have some fabulous gift ideas and can you ever go wrong with a Jellycat bunny? Bobby and Daisy's are still going strong!.
Shelley x